FGN MASTERCLASS – Top of the Line GUITARS – MADE IN JAPAN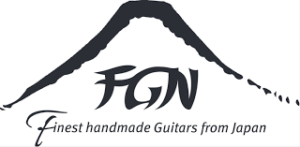 FGN Guitars werden im legendären Fujigen Werk in Matsumotu/Japan gefertigt, welches bereits seit 1960 die japanischen Serien für viele renommierte Marken baut und für seine herausragende Fertigungsqualität weltweit bekannt ist. Gitarren aus "Made in Japan" genießen ein Spitzenimage bei der Gitarristenzunft. Im Laufe der Zeit entwickelte Fujigen eine Vielzahl innovativer und patentierter Fertigungstechniken (Circle Fretting System, Compound Radius, Low Setting Setup), welche ausschliesslich auf den neuen FGN Gitarren Verwendung finden und ihnen eine perfekte Bespielbarkeit verleihen. Die nachstehend vorgestellten Modelle sind natürlich sofort lieferbar. 
Immens wichtig für viele Gitarristen sind nachfolgende Features, die man nicht nur bei den LS 20 Modellen findet: 
Long Tenon Neck – der Hals geht noch weiter in den Body als bei "herkömmlichen" Solid Body Gitarren.
Qualitäts-Gotoh-Hardware
Selektierte Hölzer – Ahorn Decke und Mahagony Body
Seymour Duncan Pickups
Non chambered – Bei den LS 30 Modellen werden keine gewichtsreduzierenden Einschnitte vorgenommen. Daher findet man auch bei FGN keine sogenannten "Soundholes"
Circle Fretting System
Compound Radius
Low Setting Setup
Sollte ein gesuchtes Modell nicht vorrätig sein, so sprechen Sie uns bitte an.
Da die Entfernung zum deutschen FGN Vertrieb nur wenige Minuten beträgt, kann ich beim Vertrieb vorrätige Modelle innerhalb kürzester Zeit besorgen.  
Bitte Bilder anklicken um weitere Informationen zu erhalten! Alle nachstehend aufgeführten Modelle sind bei LKG-Guitars lagernd und daher sofort verfügbar.  
---
---
---
LKG-Guitars ist erreichbar von Montag – Freitag, in der Zeit von 14-19 Uhr. Bitte beachten: Besuchstermine nur nach Absprache. Natürlich ist es aber möglich, Termine außerhalb der Geschäftszeiten zu vereinbaren.